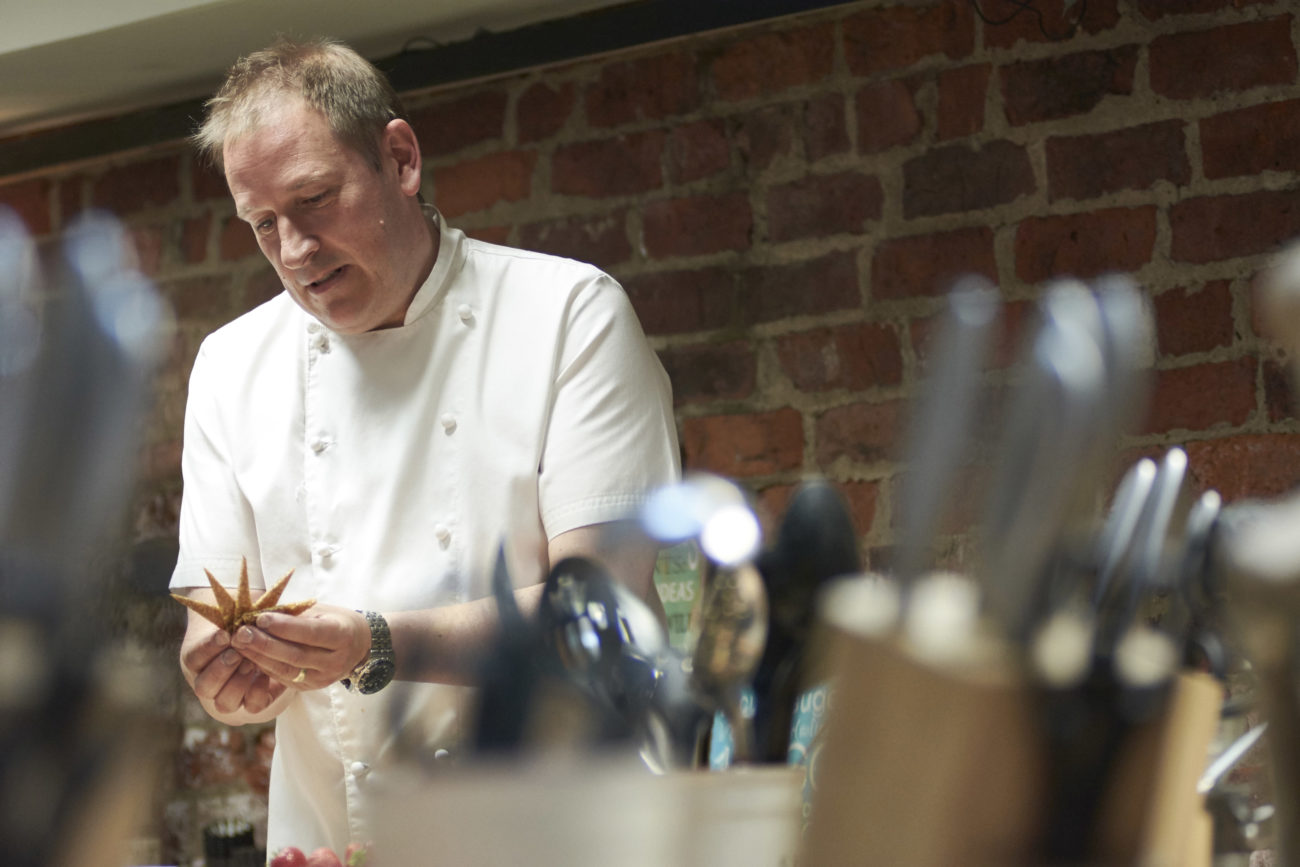 Top chef Nigel Brown regularly demonstrates his culinary talents at top food festivals and events around the country including prestigious locations such as Hampton Court Palace and Earls Court, entertaining his audiences with his cheeky sense of humour and easy to follow teaching style.
You won't find any "ego-bursting" recipes or impossible to find ingredients in Nigel's demonstrations, just good food, heaps of fun and a good splash of finesse.
Nigel can be booked for your event or festival whether it's in a marquee, university, school hall, conference suite or exhibition centre. He can even bring along his own demonstration kitchen including lighting and pa system.
To discuss your requirements or to book Nigel, call his office or send an email to let us know the date and location of your event.
Some feedback from Nigel's demonstrations
Hi Nigel,
Can I just say a big thank you for making the festival a great success. It was great to meet you and we are very grateful for your help over the weekend. You were a pleasure to work with and we are looking forward to seeing you in Cumbria.
Kind regards,
Dean Williamson
SK Events
Hi Nigel
I just wanted to say a massive thanks to both of you for everything you have done for Foodies Brighton and Hampton Court I hope you have found it a worthwhile and enjoyable experience. I will be in touch shortly regarding the next events.
Roben Hera
Foodies Festivals
Who has Nigel worked with?
The East of England Show  •  The South of England Show  •  Chester Food and Drink Show
Cheshire County Show  •  Great Yorkshire Show  •  Shugborough Hall  •  Newby Hall
Lincolnshire Fine Food and Drink Show  •  Newmarket Racecourse  •  Knebworth House
Rockingham Castle  •  Harewood House  •  Althorp House  •  Hull Truck Theatre
Bedfordshire County Show  •  Bedfordshire Festival of Food  •  Taste of Leeds
Reebok Stadium Bolton  •  Earls Court  •  East Midlands Food and Drink Festival
Holyrood Palace Foodies Festival Edinburgh  •  Hampton Court Palace Foodies Festival
Hull Global Food Fest  •  Scarborough Seafest  •  Springfields Food and Drink Show
Beverley Food Festival  •  Brighton Foodies Festival  •  East of England Christmas Festival
Dalemain House Penrith  •    Potton Craft and Food Show  •  York Food Festival
North Lincolnshire Council  •  Chester and Cheshire West Council  •  North Yorkshire Council
North East Lincolnshire Council  •  Cheshire Council  •  BBC Radio Humberside  •  BBC Look North
•  BBC Radio Lincolnshire  •  Lincs FM  •  Silk FM    •  Heart FM  •  Siren FM  •  WHR  •  Tatton TV